StreamLink Software named on Crain's 52 Fastest Growing Companies, Weatherhead 100 and Coolest Tech Companies in Northeast Ohio lists.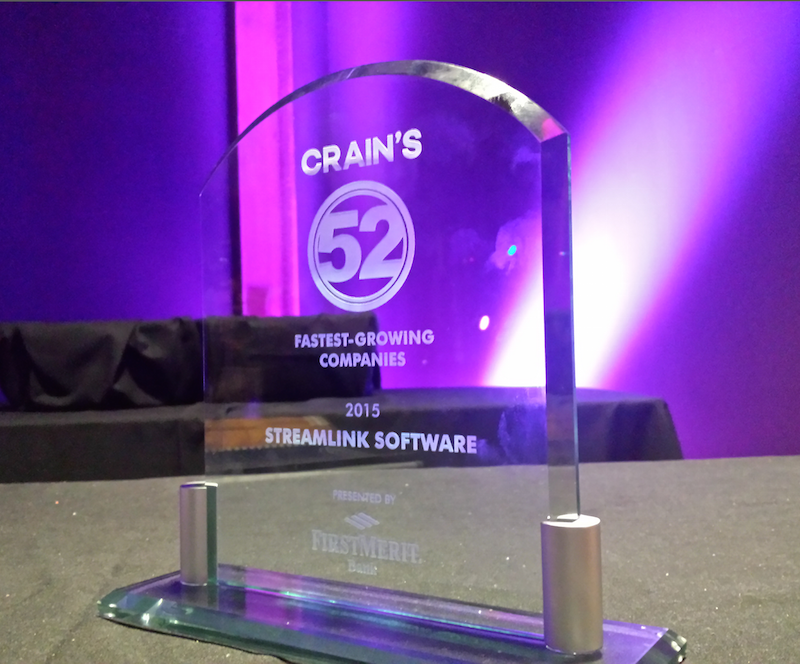 December 4, 2015 (Cleveland, Ohio)—StreamLink Software, a leading grant management and board management software provider, has been recognized as one of Crain's 52 Fastest Growing Companies, Inside Business' Coolest Tech Companies and Case Western Reserve's Weatherhead 100.
"Being recognized among these lists has been truly exciting," said StreamLink Software CEO Adam Roth. "This year's growth is a direct result of our team and the growing demand for our solutions. We are proud to call Cleveland home, and share these honors with other successful, local companies."
Each award recognizes StreamLink Software for its growth and commitment to the local community:
52 Fastest Growing Companies: Crain's 52 recognizes the entrepreneurial spirit, innovative business tactics and revenue growth of the fastest-growing companies in Northeast Ohio. StreamLink Software ranked 8th on this year's list.
Cool Tech Awards: The Cool Tech Awards program recognizes thriving Northeast Ohio technology companies. StreamLink Software placed 19th on this year's list.
Weatherhead100: Weatherhead 100 recognizes the fastest-growing companies in the region. Winning companies grew from at least $100,000 net sales to more than $1 million in a five-year period. StreamLink Software placed 9th on this year's list.
"Our markets are becoming more developed, and we continue to build awareness," said Roth. "These market trends, coupled with growing product demand, give us confidence that momentum will continue in the coming years."
About StreamLink Software
Founded in 2008, StreamLink Software (www.StreamLinkSoftware.com) designs, develops and markets leading-edge process management tools for nonprofit and public sector institutions.
The company's flagship grant management solution, AmpliFund, captures grant information as data and automates hundreds of complex activities throughout the grant lifecycle. Its board management portal, BoardMax, helps organizations engage and communicate with board members. Both products are high-value, affordable software solutions, designed to help nonprofit and public sector entities maintain compliance, generate revenue and build capacity.