Post-award performance and measurement is the greatest frustration among nonprofit and public sector organizations, according to The 2014 State of Grant Management Report, with 21% of respondents citing it. In a close second place was grant writing and submission at 19%. Below, we dive into these top frustrations with recommendations to help improve your grant processes.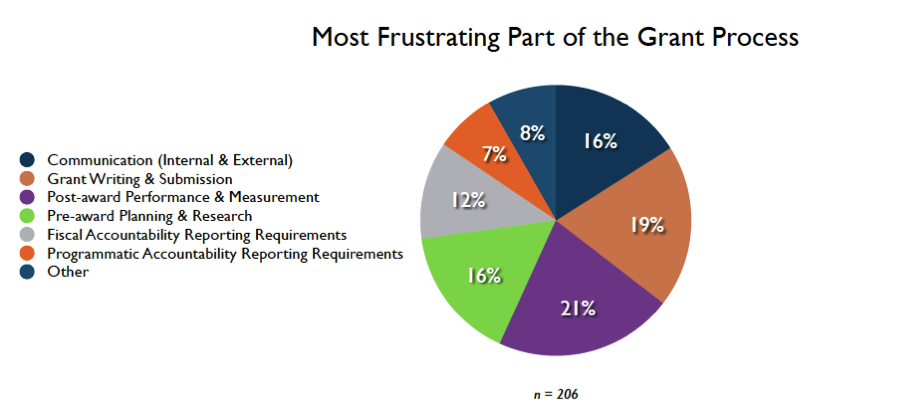 Post-Award Performance and Measurement
Due to reforms in Washington, grant recipients are being held more accountable for post-award reporting and performance metrics. OMB's Final Guidance and pending open data legislation shift the onus to the recipient to demonstrate results.
Eliminate reporting frustrations with the following pointers:
1. Educate Yourself: According to our report, only 22% of survey respondents are "very confident" in their organization's understanding of reporting changes.
It's worth the time to read up on changing federal award requirements and their impact on your organization. In addition to the policymakers, look to industry organizations (e.g. GPA, NGMA), advocacy groups (e.g. Data Transparency Coalition, Sunlight Foundation), trade publications and grant technology vendors for information.
2. Set Goals: Most grant applications ask for goals, so take the time to develop measurable and achievable ones. Instead of the lofty "feed the hungry," get specific with something like "serve 20M meals in Pittsburgh by December 31." Then, set out to meet those numbers. When you have a clear benchmark to measure against, it's easier to report progress and results ongoing. It will also help you compete in an environment of performance-based grant distribution.
3. Collect Both Objective and Subjective Data: It's no longer enough to simply report "feel good" stories to vouch for your work. Case studies, testimonials and other subjective information must now be coupled with objective numbers (e.g., houses built, students educated, meals distributed, etc.).
This means, you must have a process in place for field workers and sub-recipients to easily report progress back to your grant office. Ensure they know what information you are interested in (both subjective and objective), how often it is to be reported, and where to submit data.
4. Ensure Proper Stewardship of Funds: Implement systems to ensure the proper stewardship of funds. Whether you use grant management technology or another solution, have a process in place to adhere to award terms, gain performance visibility and maintain an audit trail (i.e. timesheets, expense reports, etc.).
One benefit of software is that you can build collection processes around open data standards, and automate compliance reporting. Save time through a bulk upload of XML files instead of manually submitting results to each government agency.
Grant Writing and Submission
The second most common frustration was grant writing and submission at 19%. This is likely because grants are competitive, leaving many organizations struggling to find and win critical funds to support their missions. Based on our research, one hour of pre-award activity raises $2,177 on average.
Reap more financial investment for your time with these tips:
1. Only Apply for High-Probability Opportunities: Take the time to research grants, evaluate your organization and programs against criteria, and prioritize opportunities by probability of success. Invest more time in those applications that are the best fits based on shared goals and priorities. Grant research tools, such as GrantFinder and GrantStation, can help streamline this process.
2. Create Detailed Performance and Budget Plans: As mentioned earlier, start by setting goals, benchmarks and objectives in accordance with application requirements. Provide significant detail into how you will use funds to meet objectives and associated timelines, and outline the processes you have in place to measure impact.
Also, include with your application a complete budget with personnel, non-personnel, sub-recipient and overhead line items, as well as item-specific allocations.
3. Show Past Success: Use the information gathered during post-award performance monitoring to supplement later applications. Prove from the get-go that your organization has what it takes to transform money into action and action into results by highlighting past projects. This instills confidence in the funders that you can be trusted to replicate outcomes.
Navigating the Grant Landscape
Navigating today's evolving grant landscape is no easy feat. However, with the right knowledge and tools in your back pocket, you can streamline efforts, maintain compliance and secure more funds.
What frustrates you about the grant process? In what ways have you successfully reduced headaches? Share your thoughts below.
For more on grant management frustrations and ways to overcome them, download The 2014 State of Grant Management Report.
Subscribe to our blog
PHA+VGhhbmsgeW91IGZvciBzdWJzY3JpYmluZy48L3A+